March 3rd, 2011
I find myself wondering why lately there seems to be such a rise in zealousy.  Why the sudden increase of intolerance.  Recently two family members of mine 'excommunicated' me because of this graphic that I designed and posted to facebook.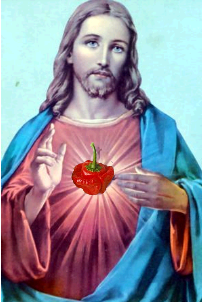 This image was not designed to be offensive.  It's meaning, the scotch bonnet pepper in place of the heart of fire, to me was a comical take on the historically incorrect 'Jesus'.  And an attempt to express my love for Jamaican/Rasta culure at the heart of my love of Christ.  As a matter of fact, to this author, the original image of "Jesus' as white as a slave master is truly the offending aspect.   Understandably some might not understand as we are victims of nearly two millenia of misrepresentation of Yahshua.  However does this image warrant a complete disconnection with family that I have known and loved for years?  Doesn't this simply tell me that their 'love' for me was not the unconditional love that we are encouraged to foster in our hearts.
To me the reaction makes it clear that their love was not the love of Christ, not the One Love that is of the true godly nature.  This seperatism has been facilitated from those who would rejoice in our failed efforts to unite. 
I am certain that we are to put our lives and loves into the faith and knowledge of our Supreme Being.  I know well also that this Being who IS unconditional love, would have us model that example.  Muslims, Christians, Jews, Hindu, Buddhist, Rastafarians, what is the ultimate distinction between these groups?  Practices, interpretations?  All claim to  know the TRUTH.  And perhaps to each individual, their modus operandi is for them a personal 'truth'.  Yet if even the King of kings, Emperor of the oldest Christian Empire, resting place of the Ark of the Covenant, when asked about the Rastafarian theological doctrine proclaiming Haile Selassie as a 'god', said " I am a man.  When I pass on others will replace me.  Yet who am I to question their faith."
As the scriptures say are we not "all gods, who will die like men"?  Who then are WE to question the faith or beliefs of any other person.  We all should be allowed to practice and express our faith without passing judgement upon others, without interfering with others, and with the love of whichever spiritual leader we proclaim in our hearts.
Just a few thoughts from
The Scotch Bonnet
Bless and Be Blessed.